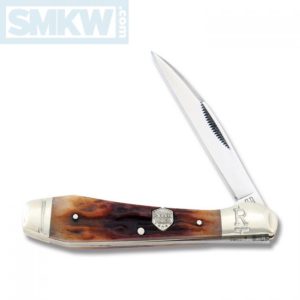 Have you heard that Rough Ryder is in a bit of a transition phase right now? They've dropped the "I" and now Rough Ryder is spelled with a "Y". The slogan they're using is "There's no longer an 'I' in Rough Ryder but there's a whole lot of 'why'."  We like it. It's clever. While the transition happens between the old spelling and the new, let's look at the classic Rough Ryder Brown Stag Bone Series. This is a great, affordable line of basic traditional pocketknives. With 22 patterns to choose from there's a pocketknife that suits just about everyone.
The genuine bone handles on these knives have various colors of brown and jigging to look like Sambar stag. They're accented by pinched, lined, and embossed nickel silver bolsters that Rough Ryder calls Slant 'R bolsters. The mirror polished stainless-steel blades easily open with matchstrike pulls. The non-locking patterns have half stops, the locking patterns do not.  The fit and finish on these knives far exceeds their $15 average price point.
This series is available in the following patterns: Copperhead, Folding Hunter, Hawkbill, Cotton Sampler, Peanut, Cub Lockback, Wharncliffe, Trapper, Muskrat, Jumbo Stockman, Jumbo Trapper, Small Moose, Small Congress, Small Toothpick, Double Lockback, Moose, Lady Leg, Canoe, Barlow, Stockman, Doctors Knife, and Pen.
Click any image in the following gallery to launch a slideshow of larger images.
Rough Ryder Brown Stag Bone Details
440 Stainless Steel, Mirror Polished
Brown Stag Bone Handles
Matchstrike Pulls
Brass Pins and Liners
Nickel Silver Shield and Nickel Silver Slant 'R Bolsters
Half Stops on Non-Locking Blades
Magnetic Clasp Collector's Box
No matter which pattern best suits you, any knife in the Rough Ryder Brown Stag Bone series makes a great addition to your daily carry rotation. To get these knives, click any link in the article or simply click the button below.


All images courtesy of Smoky Mountain Knife Works – smkw.com.