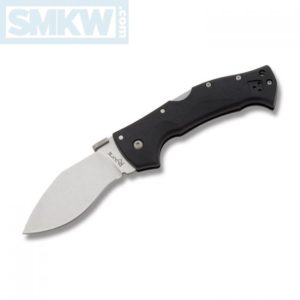 If you're not as completely pumped as we are after watching the Cold Steel Rajah 3  video in this post, then something might be wrong with you. The Rajah 3 is a folding kukri! Not only that, it's a folding kukri that might cut through a garage door (about the 1 minute mark in the video)! Although we'd dearly love nothing more than to tell you that we tested the garage door cutting capabilities, the spouse was loudly and vehemently opposed to the idea. Further, try as we might the Editor refused to buy us a garage door so we could try it. He did hand us a stack of unopened mail. It did, indeed, cut through the entire stack of envelopes like they were butter.
Designed by Andrew Demko, the 3.5" AUS10A kukri blade opens with a thumb plate. Once open, it stays open with Cold Steel's extremely reliable Tri-Ad lock.
The 5" Griv-Ex handle is long and gives you plenty of room to adjust your grip. Cold Steel tells us it "also shares similar aesthetic lines and design nuances with traditional Kukris, with the addition of strategically placed curves for optimum grip and control." Finally, the Rajah comes with an ambidextrous tip-up pocket clip and lanyard hole.
Cold Steel Rajah 3 Details
AUS10A, Stonewash Finish
3.5" Kukri
Flat Grind
Griv-Ex Handle
Tri-Ad Lock
Ambidextrous Tip-Up Pocket Clip
Lanyard Hole
5 Ounces
4.75" Closed
8.25" Overall
Cold Steel folders are renowned for their sharpness and extreme durability. Whether or not it will cut through your garage door, the Cold Steel Rajah 3 is bound to be a great knife. To get these knives, click any link in the article or simply click the button below.


All images courtesy of Smoky Mountain Knife Works – smkw.com.