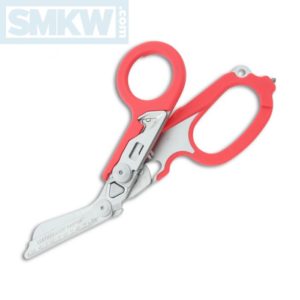 Where are you most likely to need an emergency tool? In your car.  Designed for and beloved by first responders, the Leatherman Raptor is also a glove box essential. Whether in your tool box, your glove box, or on your hip, it's an easy addition with its relatively light weight and an overall length of only 5" closed. The easily accessed tools are useful things you just might need in a medical emergency.
In addition to cutting through even thick cloth beautifully, the 420HC stainless steel medical sheers come apart for easy cleaning and maintenance. Etched on the front of one blade is a small ruler. On the back of the sheers is a ring cutter.
The handles are stainless steel with rugged GFN scales. Housed inside the handle is a strap cutter. It's an easy one-handed opener via the oxygen tank wrench. It locks in place with a liner lock. One of the best things about the Leatherman Raptor is that the strap cutter works even while the sheers are open. On the top of the handle, there's a carbide tip glass breaker.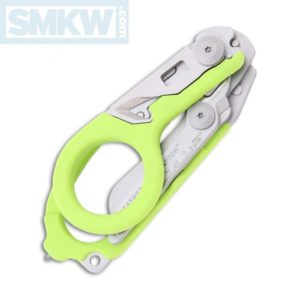 There are a ton of options when it comes to carrying the Raptor. It comes with a MOLLE compatible injection molded GFN holes with a rotating clip. This allows you to carry vertically or horizontally in either the closed or open position. Additionally, it has a replaceable tip-down pocket clip and lanyard hole.
The Leatherman Raptor is available in five different colors – red, black, green, black and orange, and tan. Click any thumbnail in the following gallery to launch a slideshow of full-sized images.
Leatherman Raptor Details
420HC Stainless Steel, Satin Finish
1.9" Shear
Glass Filled Nylon Handles
Strap Cutter with Liner Lock
Oxygen Tank Wrench
Ruler
Ring Cutter
Carbide Tip Glass Breaker
5.8 Ounces
5" Closed
6.9" Overall
Made in the USA
Whether you're a first responder or getting your emergency gear together, you can't go wrong with the Leatherman Raptor. To get this multi-tool, click any link in the article or simply click the button below.


All images courtesy of Smoky Mountain Knife Works – smkw.com.