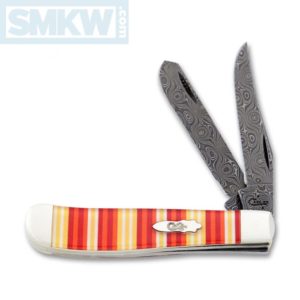 The new Case Candy Stripe Damascus series is a real blast from the past. Traditional pocketknives have often carried whimsical and fun handles. They were made from celluloid back in the day, but now more often than not, they're made with acrylic. However, whimsical handles are rarely pared with something quite as nice as Damascus steel, but this series does.
Each of the knives in this Case series features gorgeous golden yellow, golden orange and white stripes. They reminded us good old Fruit Stripe gum. Now, pair that with some simply exquisite Damascus steel blades, and you've got something to add to your collection. All the knives in the Case Candy Stripe Damascus series feature nickel silver bolsters and a nickel silver Case bomb shield, as well as a brass liner.
There are four patterns available in this series: the Trapper, the Mini-Trapper, the Peanut, and the Small Texas Toothpick.
Case Candy Stripe Damascus Details
Candy Stripe Acrylic Handles
Damascus Steel Blades
Nickel Silver Bolsters and Case Bomb Shield
Brass Liners
Made in the USA
The Case Candy Stripe Damascus series will inevitably be a highly collectible series from Case. If you're interested in adding any of these knives to your collection, simply click on any link in this article or the button below.