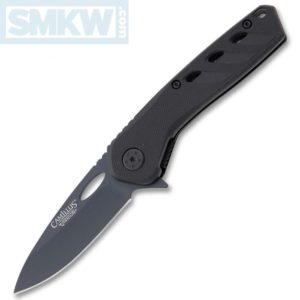 In our never ending quest to find you lists of knives you might love, we came across these three budget friendly EDCs. They're all good knives, and you can get any one of them for less than $30. Let's get into them.
Camillus Slot
The Quick Launch Dual Bearing System makes the Camillus Slot one fast opening flipper/thumb hole opener. Camillus tells us the 2.75" AUS-8 drop point is "bonded with Carbonitride Titanium that resists rust and corrosion and is up to 10x harder than untreated steel so the blade stays sharper, longer."
The glass reinforced nylon handles are available in either black or light grey and have a good grip. The lock up is good with a liner lock. Finally, it has a tip-up pocket clip.  You can get this knife for about $30.
Camillus Slot Details
AUS-8, Carbonitride Titanium Coated
2.75" Drop Point
GFN Handles
Liner Lock
Flipper or Thumb Hole Opener
Quick Launch Dual Bearing System
4" Closed
6.75" Overall

Marble's Wildlife Series Damascene Stockman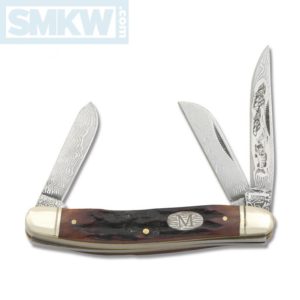 The Marble's Wildlife Series Damascene Stockman is a beautiful three blade pocketknife you can pick up for about $13. It has brown stag bone handles with lined nickel silver bolsters and a branded damascene etched shield. The stainless-steel blades also have a damascene pattern etch for an elegant touch. Additionally, there's a largemouth bass fishing scene etched on the clip point main blade. Finally, it has match strike pulls and half stops for a safer, easier opening. You can pick up this budget friendly EDC for about $13.
Marble's Wildlife Series Damascene Stockman Details
440A Stainless Steel, Etched
Clip Point Main, Sheepsfoot and Spey Secondary Blades
Half Stops
Match Strike Pulls
Brown Stag Bone Handles
Lined Nickel Silver Bolsters
Damascene Shield
Brass Pins and Liners
2.88 Ounces
3.5" Closed

Geber  Crucial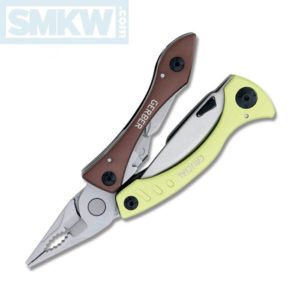 The Gerber Crucial is a great daily carry you can get for about $20. This pared down multi-function multi-tool provides eight streamlined, durable tools while maintaining a light weight, compact, daily carry. It weighs about five ounces and comes with a tip-down pocket clip.
The curved, ergonomic handles provide a great grip and increased torque. They butterfly open reveals the needle nose pliers with a wire cutter.
Incorporated in the green side handle is a 2.375" stainless steel partially serrated knife that opens with a thumb stud. The green side handle also has a carabiner clip that doubles as bottle opener.
On the brown side handle there's a flathead and Phillips head screw driver. All tools lock in place with a locking liner.
Gerber Crucial Details
2.375" Stainless Steel, Partially Serrated Knife Blade
Stainless Steel Handles
Liner Lock
Needle Nose Pliers with Wire Cutter
Cross Driver
Flathead Driver
Carabiner/Bottle Opener
5 Ounces
3.6" Closed
5.5" Overall

Any one of these three budget friendly EDCs make an outstanding and affordable addition to any knife collection. To get these knives, click any link in the article or simply click the button below.


All images courtesy of Smoky Mountain Knife Works – smkw.com.