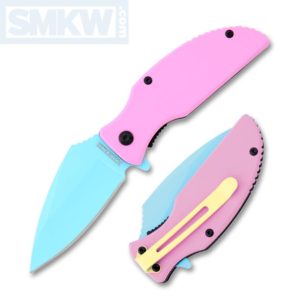 The Easter Bunny and PAAS have nothing on these two little Rough Ryder Pastel knives. Yes. They're fast. They're perfect for the pocket, and you read that right. They're pastel. Look, some knives are for bragging rights and others are perfectly suited for a task, but some knives are just for fun. And, the Rough Ryder Pastel knives are just that – fun.
There are two Rough Ryder Pastel knives. Both are the same shape and size. They both feature a 2.75″ 440A stainless steel leaf-shaped blade with a thumb ramp and jimping. They're both tip-down, assisted opening flippers that are lightning fast, and they both have 3.5″ stainless steel handles. What's different about the two? They have different pastel coatings.
The RR1989 features a robin's egg blue blade coating and a lavender coated handle with a pastel yellow pocket clip. The RR1988 features pastel yellow blade coating with pastel pink coated handle and a pale turquoise pocket clip. Both lock open to 6.25″ overall with a solid linerlock.
Rough Ryder Pastel Details
2.75″ 440A Stainless Steel Blade
Assisted Opening Flipper
Tip-Down Stainless Steel Pocket Clip
Stainless Steel Handles
Mixed Pastel Color Coatings
3.5″ Closed
6.25″ Overall
Hey, these little Rough Ryder Pastel knives are just fun (and fast as all get out), and best of all, they're only about $7 each. Wanna surprise your knife lover this Easter with something fun in his or her basket? Click any link in this article or the button below and add a Rough Ryder Pastel knife to their basket.


All images courtesy of Smoky Mountain Knife Works – smkw.com.