The highly anticipated John Wick 3 makes its way into theaters tomorrow, May 17. One thing in the first two movies that was always cool to watch was how many different weapons were at Wick's disposal. We might have spent more than a minute or two pausing the movie while shouting, "What knife is that?!" We might have done that so many times the Spouse became significantly annoyed. While Wick makes use of various firearms throughout the films, when it comes to up-close and personal ass-kicking, he relies on his bare hands, blades, and sometimes just a pencil. Let's take a look at some of the knives of John Wick.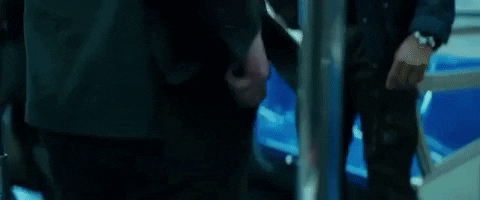 During the fight scene on the train in John Wick 2, Wick is using an out-the-front automatic. It appears to be a Microtech Combat Troodon. This knife has tactical written all over it. With Microtech's reputation for high-end automatic knives, this one is definitely suitable for this close quarters combat (CQC) encounter. The American-made Combat Troodon comes in a variety of blade styles from drop point to tanto. They all feature premium steel, lightweight aluminum handles, glass breakers, and a double action thumb slide lock.
Microtech Combat Troodon Details
Various Blade Steels and Styles
3.81″ Blade
Aluminum Handle
Double Action Thumb Slide
Tip-down Pocket Clip
Glass Breaker
5.75″ Closed
9.5″ Overall
Made in USA

In that same scene, his opponent pulls out what appears to be a Cold Steel Counter Tac 1. This easily concealed fixed blade has a super grippy and comfortable Kray-Ex handles with a double guard for added security. The double-edged AUS-8 stainless steel dagger blade has been sub-zero quenched for extra strength and durability. As always with Cold Steel Knives, it is razor sharp straight out of the box. A removable clip and lashing slots on the sheath make it easy to carry anywhere, backing up the fact that this knife was designed with functionality in mind.
Cold Steel Counter Tac 1 Details
AUS-8 Stainless Steel, Satin Finish
5″ Dagger
0.20″ Blade Thickness
Kray-Ex Handle
Lanyard Hole
4.6oz
Secure-Ex Sheath
9.5″ Overall

In the crazy hall of mirrors fight scene, you can see what looks like the Cold Steel Safe Maker 1. This push dagger is an old, reliable friend to many. It's definitely a formidable self-defense item, and while this is a movie, after all, the scene still showcases how this little bugger can be used in a fight. It features an AUS-8 stainless steel blade and a textured Kray-Ex handle. It's easy to get a good grip on this knife thanks to the rounded shape of the handle. At just about 6.5″ overall, the Safe Maker 1 also works great as a backup knife.
Cold Steel Safe Maker 1 Details
AUS-8 Stainless Steel, Stonewash Finish
4.5″ Dagger Blade
Kray-Ex Handle
3.4oz
6.5″ Overall
Secure-Ex Sheath

Unlike John Wick, you will probably not be defending yourself against waves of highly trained assassin killers. But it's always fun to beef up your tactical arsenal and the knives of John Wick make an excellent addition to any knife collection. To find any of these wicked cool knives, click any link in this article or simply click the button below.

All images courtesy of Smoky Mountain Knife Works – smkw.com.