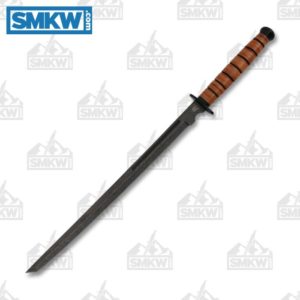 The Rough Ryder Marine Combat Sword looks like they took an old school combat tanto and stretched it out into a sword. It's really just freaking awesome in a fantastically fun way. You can use it like a machete for chopping through some weeds, trim up some bushes, receive strange looks from the neighbors, decorate the man-cave, or whatever else you can think of. The fun potential for this fabulous sword is almost endless, and you can pick up this historically inspired sword for about $30.
Of course, after we saw it, we had to field test this bad boy. The dark stonewash finished 440A tanto tip blade is a whopping 19.75″ with a blade thickness of about 0.37″. The shrubbery didn't stand a chance, because this thing is sharp straight out of the box.We also love the addition of the fuller to the blade. It just looks cool.
A noteworthy touch in the design of this sword is a large finger choil for fine detail work. We freely admit that this sword did not make a great whittler, despite the addition of a finger choil (as our spouse's rose bush will attest).
The stacked leather handle gives it the look of a classic WWII fighting knife. As you'd expect from a stacked leather handle, it has a comfortable grip. It's also large enough for a two-handed grip, and if you get tired of holding it, this fabulous beast comes with a MOLLE compatible nylon sheath with plastic insert so you can safely carry this in any number of ways.
Rough Ryder Marine Combat Sword Details
440 Stainless Steel, Dark Stonewash Finish
19.75" Tanto Blade
Rat Tang
Stacked Leather Handle
Nylon Sheath
27.87" Overall
The Rough Ryder Marine Combat Sword is a ton of fun for not a lot of dough. The sharpness and overall great build make it worth every penny. If you want one for yourself, click any link in the article or the button below.


All images courtesy of Smoky Mountain Knife Works – smkw.com.