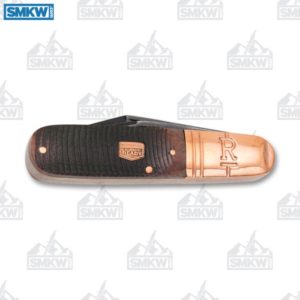 The Rough Ryder Backwoods Bushcrafter Barlow is now available. It's great for completing the series for collectors. It's also just a great looking traditional knife.
This Barlow features 440A stainless steel blades with half stops, match strike pulls, and a blackwash finish, just like the rest of the Backwoods Bushcrafter series. The sawcut amber bone handles not only look great in this series, they have an interesting feel in your hand. They have a nice texture to them and blend nicely with the dark blades and oversized copper bolsters. Of course, they didn't stop with the brass bolster. It also has brass pins, liners, and a copper "Always Ready" shield. All of the copper in this knife will develop quite a patina over time the more you use it, resulting in a pretty nice worn-in look.
Rough Ryder Backwood Bushcrafter Barlow Details
440A Stainless Steel, Blackwash Finish
2.5" Clip Point, 1.75" Pen Blade
Match Strike Pulls
Half Stops
Sawcut Bone Handles
Copper Pins, Liners, Shield
Pinched Copper Slant 'R' Bolsters
4oz
3.375" Closed
You can get this Rough Ryder Backwoods Bushcrafter Barlow for just $15, and as always, they're built by hand and backed for life. Check it out by clicking any link in the article or the button down below.


All images courtesy of Smoky Mountain Knife Works – smkw.com.