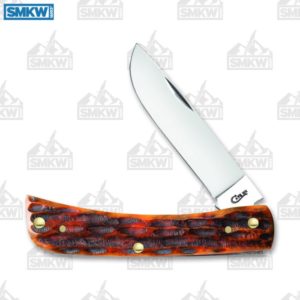 If you're looking for a knife that's easy to carry in your pocket and has standout style, the Case Autumn Deep Canyon Jigged Bone series delivers. They have a unique look that makes them a great collection piece, and patterns run from about $50 to about $90. Want to know what else this knife has to offer? Here's the run down on what to expect.
The handles on the Case Autumn Deep Canyon Jigged Bone knives feature rich reddish browns to deep, dark browns colors with a rugged jigging pattern. All this gives these knives a tremendous look that is sure to age beautifully. Each knife has brass pins and liners, as well as branded nickel silver bolsters. Each knife also has mirror polished Tru-Sharp surgical steel blades with a Rockwell score of HRC 55-58 for excellent hardness and good edge retention.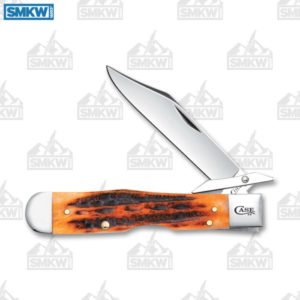 While this series is available in seven different patterns, our favorite pattern in this series just might be the Case Autumn Deep Canyon Jigged Bone Cheetah. This clip-point blade is sharper and thinner than many other styles, which enhances stabbing ability and reduces drag. The silver nickel swing guard gives your fingers extra protection against sliding forward on the blade itself, and the lockback locking system assures the blade stays secure during use.
In addition to the Cheetah, the Case Autumn Deep Canyon Jigged Bone series is available in the following patterns: Backpocket, Peanut, Trapper, Medium Stockman, Sodbuster, and Mini Trapper.
Click any thumbnail in the following gallery to launch a slideshow of larger images.
Case Autumn Deep Canyon Jigged Bone Details
Tru-Sharp Surgical Steel, Mirror Polished
55-58 HRC
Slipjoint
Nail Nick
Autumn Deep Canyon Jigged Bone Handles
Brass Pins and Liners
Branded Nickel Silver Bolsters
If you want a new all-around favorite knife at a budget-friendly price point, the Case Autumn Deep Canyon Jigged Bone Cheetah is it. If you're interested in these knives, click any link in the article or simply click the button below.


All images courtesy of Smoky Mountain Knife Works – smkw.com.