Who is our 2019 Favorite Maker? Tony Bose, Rick Hinderer, or L.T. Wright? The answer is all three! There's no need to pick between the three. You can easily carry a Case Tony Bose pattern (or a Tony Bose custom if you're incredibly lucky), an L.T. Wright, and a Rick Hinderer, because who doesn't need more knives?
Tony Bose
Tony Bose is hands down our favorite knife maker of all time, period. Even this Elijah Isham Fan will pick the Tony Bose Pruner as her all time favorite knife if you force the issue. In case you've been living in a cave for the last forty years, some of the most popular patterns on the market are very old patterns that have been re-discovered, re-imagined, and made by Tony Bose.
For instance, some of Case's most popular patterns are actually Tony Bose patterns. Sometimes he takes old knife patterns that have disappeared from the market, smooths out some of the design's rough edges, re-imagines them a bit, and perfects them. The Eureka Jack, the Bullnose Trapper, and the Swayback Wharncliffe are all based on very old patterns, but they've been modernized, re-imagined, and elevated far beyond their origins.  Sometimes the pattern is unique like the Norfolk. No matter the pattern's origin, every Tony Bose knife is the pinnacle of slipjoint beauty and functionality. Although, if we had to take a guess, he most likely prioritizes functionality over beauty more often than not. We heard him say more than once, "A knife is a tool, it's meant to be used!"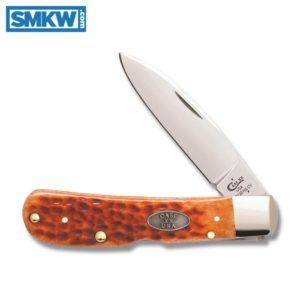 When we met this Hall of Fame knife maker, he was funny as hell. We firmly believe he can probably charm the birds out of the trees. His knowledge of knives and knife history is epic, and he's incredibly generous when sharing that information. We were fortunate enough to not only meet him, we got to handle two of his knives. One was his custom and the other was an old Remington Bullet knife he'd done a bit of work on. They were, quite literally, the best pocketknives we've ever had in our hands. If you ever get a chance to handle one of his custom knives, do it. They're amazing.
Case Tony Bose Bullnose Trapper
If you can't quite manage to put your hands on an actual custom, check out some of his Case knives. For instance, the Case Tony Bose Bullnose Trapper with Raindrop Damascus Blades and Molasses jigged bone handles is a fine place to start.
This beefy trapper is a limited production run that features a 3.125" clip and spey blades with a flat tapered grind. The molasses jigged bone handles are mounted on milled stainless-steel liners and secured with stainless steel pins. It's accented by brushed satin bolsters, a brushed arrowhead shield, and comes with a stainless-steel lanyard tube. It has stout backsprings with a pull that is that is just about perfect for most users. The fit and finish is outstanding. The walk and talk is superb.
Case Tony Bose Bullnose Trapper Details
Raindrop Damascus
3.125" Clip and Spey Blades
Molasses Jigged Bone Handles
Milled Stainless-Steel Pins and Liners
Brushed Stainless-Steel Bolsters and Shield
Stainless-Steel Lanyard Tube
4.125" Closed
7.25" Overall
Made in the USA

Rick Hinderer and LT Wright
This year we also had the opportunity to meet with Rick Hinderer and LT Wright. They were both everything you want when meeting your knife-making heroes. They're both knowledgeable, approachable, patient, and friendly.
Rick Hinderer – Full Track
Maybe you slept through all of the excitement in 2019 – or didn't keep up with your Knife Newsroom stories – and missed out on the exciting new tech from Rick Hinderer. The highly anticipated Full Track came out this year, and it was well worth the wait. For as long as we can remember, he's always been a strong proponent of knife mods. With the Full Track and his new Tri-Way Pivot, he's gone one step further, because you can literally break down and modify your knife with nothing more than your knife.
The Full Track comes with a tool that's conveniently stored in the back of the knife. Inside the knife handle is your choice of pivots – nylon, phosphorous bronze washers, or ceramic bearings. All that combined with a knife that is a seriously sturdy workhorse of a knife definitely lands the Hinderer Full Track on our 2019 Favorites list.
Hinderer Knives Full Track Details
CPM-20V, Working Finish
3.75" Spear Point
0.17" Blade Thickness
1.38" Blade Width
Flipper with Tri-Way Pivot System
Frame Lock
Titanium Handles with G-10 Inlays
1.25" Handle Width
0.55" Handle Thickness
Removable Adjustment Tool
6.90 Oz
5.12" Closed
8.8" Overall
Made in the USA

LT Wright – Green Jeans Micarta Bushcrafter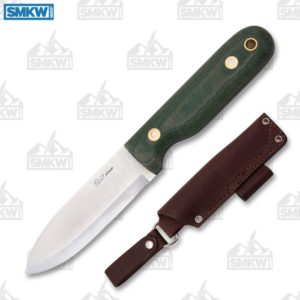 We picked the LT Wright Bushcrafter with Green Jeans Micarta for our 2019 Favorites List because we really like the way the green denim micarta looks. However, you literally can't go wrong with any LT Wright knife. They're all superbly executed, small batch produced, USA-made fixed blade knives with a superior fit and finish.
His knives most often have A2 tool steel blades with a sharpened spine, making them perfect for use with the coordinating fire starter. They have thick micarta handles that are contoured for comfort and always have an impeccable fit and finish. The Green Jeans Micarta comes with a quality leather dangler sheath with a belt loop for your fire steel.
LT Wright Bushcrafter Green Jeans Micarta Details
A2 Tool Steel, Satin Finish
4" Drop Point
1/8" Blade Thickness
57-59HRC
Full Tang
Green Jeans Micarta Handles
Leather Sheath
6.72 oz.
8.25" Overall
Made in the USA

Not only because they make outstanding knives but also are kind, approachable, and knowledgeable, Tony Bose, Rick Hinderer, and LT Wright all land on our 2019 Favorites list. To see more about any of these fantastic makers, click any link in the article or simply click the button below.


All images courtesy of Smoky Mountain Knife Works – smkw.com.