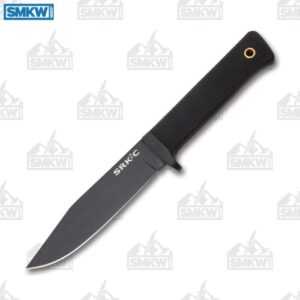 According to the manufacturer, the new Cold Steel SRK Compact was "[d]esigned expressly for those who want or need a low-profile fixed blade." Well, we don't know exactly how low-profile the compact version might be in the general scheme of things. It's still a big, beefy knife that's just basically all-around awesome. However, we know it is a couple of inches smaller. It's about a few ounces lighter. And it's a little bit thinner than the original models. Even if it's not the most low-profile knife on the market, it's an outstanding knife you can pick up for less than $50.
The SRK Compact features a 5" SK5 clip point blade with a 0.156" blade thickness and a black Tuff-Ex finish. It comes shaving sharp straight out of the box. SK5 is a Japanese high carbon tool steel that's been around for quite some time. Cold Steel tells us it has "good all-round toughness and excellent edge holding capabilities, as well as excellent abrasion resistance."
The 4.5" handle is Kray-Ex which is highly slip resistant and has a very slight palm swell which gives this knife an even more comfortable grip. The handle is long enough for a great grip even with larger hands but at about 0.67" thick, slim enough for a more discreet carry. It comes with a Secure-Ex sheath with a variety of lashing points. The SRK Compact has an overall length of 9.5" and weighs in at about 5.1 ounces.
Cold Steel SRK Compact Details
SK5, Black Tuff-Ex Coated
5" Clip Point
0.156" Blade Thickness
Full Tang
Kray-Ex Handle
0.67" Handle Thickness
Secure-Ex Sheath
Brass Lanyard Tube
5.1 Ounces
9.5" Overall
If you love Cold Steel as much as we do, the Cold Steel SKR Compact is almost a no-brainer. It's an excellent fixed blade knife you get for about $46. To get this knife, click any link in the article or simply click the button below.


All images courtesy of Smoky Mountain Knife Works – smkw.com.