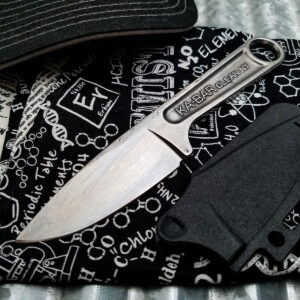 The KA-BAR Forged Wrench Knife looks like someone forged a wrench into a knife and we love it. Not only is it a fun looking knife, it's made in the USA with USA-made steel. It comes with a USA-made sheath. All that and it's an affordable find you can pick up for about $40.
This knife is forged from a single piece of 425 stainless steel which is a slightly improved version of 420HC with good corrosion resistance. It has a flat ground 3" drop point blade with a blade thickness of 0.188" that's been hardened to 56-58HRC.
The handle is about 4.125" long and has a handle thickness of 0.188". The grip on this knife feels, well, just like a wrench. It comes with a plastic sheath with multiple attachment points that securely holds the knife in place. However, it has a slight ramp that let's you quickly and easily un-sheath your knife. It's 7.125" overall and weighs about 3.2 ounces.
KA-BAR Forged Wrench Knife Details
425 Stainless Steel, Forged Finish
3" Drop Point
0.188" Blade Thickness
56-58 HRC
Flat Grind
Fixed Blade
One-Piece Constructed
Hard Plastic Sheath
3.2 Ounces
7.125" Overall
Made in the USA
The KA-BAR Forged Wrench Knife makes an outstanding gift for the knife collector in your life. It's function fun for about $40 that's made in the USA. To get this knife, click any link in the article or simply click the button below.


All images courtesy of Smoky Mountain Knife Works – smkw.com.