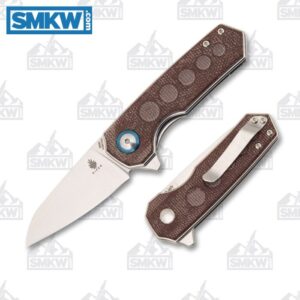 Designed by Azo, the Kizer Lieb is a funky little folder that packs a powerful punch. It's a small EDC with a funky blade shape and an ergonomic handle. You can pick one up for about $55.
The Lieb is a manual flipper that rides on washers and features a 2.39" N690 modified Wharncliffe blade. We really like this blade shape because it keeps the piercing power we like when opening our boxes combined with an elongated slicing edge. If you open many clam packs you know the longer the slice, the less likely you are to cut your finger on the plastic.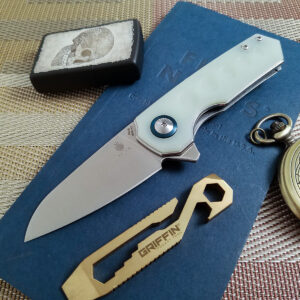 As far as the steel in this knife goes, N690 is one we don't see all the time. It's an older Bohler steel is often compared to VG-10. It's a high carbon, high chromium stainless steel with a touch of Cobalt and a small amount of Vanadium. In blade steel, Vanadium refines the grain size and Cobalt – when tempered at higher temperatures – allows a higher hardness. Bohler tells us it has a potential hardness of up to a 60HRC and a wear resistance that (among their steels) is second only to their M390.
The Lieb is a linerlock with an ergonomic, compact 3.46" handle with milled handle scales. It's available in three different colors: Black G-10, Transluscent G-10, and Brown Canvas Micarta. They each have an anodized blue pivot collar for that little pop of color we all love.
This knife features open back construction for easy maintenance. It has a tip-up pocket clip, and it weighs a miniscule 2.68 ounces.
Kizer Lieb Details
N690, Satin Finish
2.39" Modified Wharncliffe
0.11" Blade Thickness
Manual Flipper
Washer Pivot
Linerlock
G-10 or Micarta Handle Scales
0.43" Handle Thickness
2.68 Ounces
3.46" Closed
5.85" Overall
The Kizer Lieb is a small, pocket friendly manual flipper you can pick up for about $55. It has a great look, an interestingly utilitarian blade shape, and it practically disappears in your pocket. If you're interested in this knife, click any link in the article or simply click the button below.


All images courtesy of Smoky Mountain Knife Works – smkw.com.