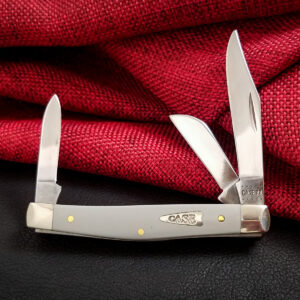 For about a hundred years, people have been using the standard yellow synthetic Case knives as their go-to workhorse pocketknives. The Case Gray Synthetic series is just like that, except it's gray instead of yellow. You can pick up on of these USA-made slipjoints for about the same budget friendly price as the old reliable yellow composition. Prices start at about $30 for the Sodbuster, Jr and go up to a mere $50 for the Mini Copperlock.
What's the advantage of a gray pocketknife instead of a yellow one? Well, if you're one who sometimes like to match your knife to the rest of your gear, gray goes with everything. Sometimes easy is good. Same can be said for a slipjoint. Sometimes, you just don't want to have to be fussed with something fussy.
This series is available in eight different patterns: Medium Pen Blade Stockman, Small Texas Toothpick, Peanut, Mini Copperlock, Sodbuster Jr, Mini Trapper, Medium Stockman, and Trapper. You'll notice they're mostly some of the smaller patterns except the Trapper, which is a standard 4.13" closed Trapper pattern. We don't hate it because sometimes a smaller knife is really all you need. It means they're lightweight, discreet, and very pocket friendly.
Click any thumbnail in the following gallery to launch a slideshow of larger images:
Each knife in this series has mirror polished Tru-Sharp surgival steel blades. Most models have brass pins and liners with nickel silver bolsters and the Case Arrow shield. They're all slipjoints that open with a nail nick except the Copperlock, which is a lockback that opens with a straight pull.
Case Gray Synthetic Series Details
Tru-Sharp Surgical Steel, Mirror Polished
Slipjoint (Lockback on Mini-Copperlock)
Nail Nick
Gray Synthetic Handles
Brass Pins and Liners
Nickel Silver Bolsters and Shield
Made in the USA
For an average of about $40, you honestly can't go wrong with the knives in the Case Gray Synthetic series. They're tough, reliable knives with a proven track record that are made right here in the USA. If you're interested in these knives, click any link in the article or simply click the button below.


All images courtesy of Smoky Mountain Knife Works – smkw.com.