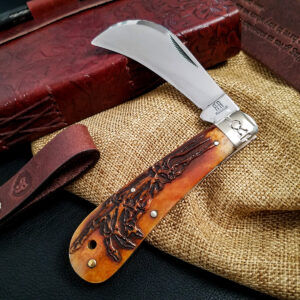 The Rough Ryder Reaper is seriously a cool looking knife. It has amber smooth bone handles with an upraised skeletal hand on both the front and back handle. Hence, the Reaper. Not only is it cool looking, it's a useful tool.
The hawkbill dates back almost as far as the eye can see in knife history. Historically, its utility was primarily as a work knife on farms and in fields as a pruner and field knife. In more modern times, it's often used for floor covering and home improvement jobs.
For us, it excels as a zip tie cutter and package opener. You know how they sometimes wrap the package in plastic and then do the plastic cord? Yeah, this knife works beautifully on that annoying pack job. The tip pierces just enough to get you started, then the curved edge hooks in and slides right through straps like butter.
The Reaper is a slipjoint with a 3" mirror polished 440A hawkbill blade with swedging along the spine to increase flexibility in the tip. It has half stops and match strike pulls, but you'll most likely pinch grip it to open it. It has brass pins and liners, nickel silver Slant 'R bolsters, and a lanyard tube. At 4" closed and with a carry weight of 3.25 ounces, this is a fairly substantial knife.
Rough Ryder Reaper Details
440A Stainless Steel, Mirror Polished
3" Hawkbill Blade
Half Stops
Match Strike Pulls
Slipjoint
Amber Smooth Bone Handles
Brass Pins and Liners
Nickel Silver Bolsters
Lanyard Hole
4" Closed
7" Overall
With Halloween just around the corner, the Rough Ryder Reaper makes an outstanding addition to your daily pocket dump. It's is a fun looking knife with a ton of utility. If you're interested in this knife, click any link in the article or simply click the button below.


All images courtesy of Smoky Mountain Knife Works – smkw.com.