Cold Steel has been sold to GSM Outdoors. What's the fate of beloved Demko designs like the Cold Steel 4-Max Scout? How will the collector market react to the sale of Cold Steel? We don't know. We can speculate that, much like with Al Mar knives, there might be a defining line between the Lynn Thompson era and the GSM Outdoors era. The long and short of it is we simply don't know at this time. However, here's a look at what we do know.
Cold Steel
Cold Steel is a brand Lynn Thompson built from the ground up forty years ago. Over the years, Cold Steel has grown a devout following that numbers in the hundreds of thousands. Many, many people were introduced to the knife industry after watching the legendary video torture test antics of Lynn Thompson. If you've a fan of knives, you've almost certainly heard of and most likely owned at least one Cold Steel.
Rumors have swirled around the internet for years that Lynn Thompson was thinking about selling Cold Steel. Apparently, that rumor has become fact. Cold Steel has apparently been bought by GSM Outdoors.
GSM Outdoors
GSM Outdoors is a Texas based company that specializes in the development and marketing of outdoor and hunting gear. They own brands such as Stealth Cam, Walker's, Birchwood Casey, and many more. They were recently bought by Gridiron Capital which is an investment firm that's developed partnerships with over 70 small- to mid-sized companies nationally over the last thirteen years.
What are their plans for the Cold Steel line of knives? We don't yet know. We have sincere hopes that they'll continue producing the solid builds and beefy folders we've all come to know and love like the 4-Max Scout.
Cold Steel 4-Max Scout
This knife isn't the least expensive knife in the Cold Steel lineup but it's arguably one of the most popular. Cold Steel tells us the original 4-Max, "…was expensive and difficult to manufacture and deliver in a timely manner to meet customer demand. The 4 Max Scout is easier to produce and is a far more affordable alternative."
Custom knife maker and Cold Steel collaborator Andrew Demko explains they wanted to keep the sturdy build of the 4-Max but make it more affordable. We believe they succeeded. The Cold Steel 4Max Scout is still a big honking beastly knife that's built to last. It's a thumb stud opener with a 4" stonewash finished AUS10A drop point blade. This stout folder has a blade thickness of 0.19". It, of course, comes razor sharp straight out of the box.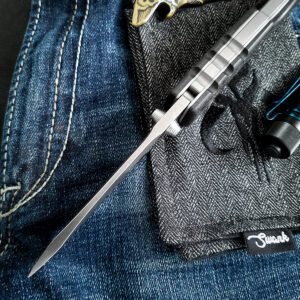 The handles are textured Griv-Ex mounted on stainless steel liners. This change reduces the manufacturing cost of the knife without sacrificing any of the quality. It has an ambidextrous, tip-up pocket clip and lanyard hole. It's a whopping 6" closed and weighs about 10.2 ounces.
One place where Cold Steel did not choose a cost saving measure was in using Andrew Demko's Tri-Ad Lock. Cold Steel tells us this lock, "…has passed every one of our grueling shock and impact tests and then gone on to hold 600 lbs. of free hanging weight with no damage!" Although cosmetically and functionally similar to Granddad's old lockback, the Tri-Ad lock is not the same. First, it's self-adjusting over time. That means it's less likely to fail once it becomes a knife of a certain age. It also provides a more consistent, secure lock up straight out of the box. The inclusion of a stop pin not only helps redistribute the force away from the lock it also increases the contact between the blade tang and the angled lock. All this results in an incredibly strong and reliable lockup.
Cold Steel 4-Max Scout Details
AUS10A, Stonewash Finished
4" Drop Point
0.19" Blade Thickness
Manual Folder
Ambidextrous Thumb Studs
Griv-Ex Handles
Stainless Steel Liners
Ambidextrous, Tip-Up Pocket Clip
Lanyard Hole
10.2 Ounces
6" Closed
10" Overall
We don't know what's in store for the Cold Steel line of knives in the future. We do know the Cold Steel 4-Max Scout is a big, beefy, beastly and beloved folder that's built to last a lifetime. You should absolutely add this knife to your collection. If you're interested in this knife, click any link in the article or simply click the button below.


All images courtesy of Smoky Mountain Knife Works – smkw.com.