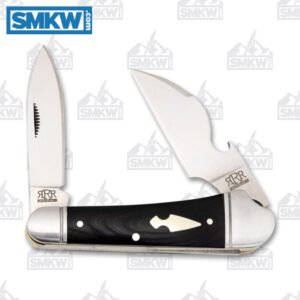 Remember back when we did an in-depth article on the new Rough Ryder Reserve line and Rough Ryder said they were waiting on one more knife to arrive? Well, the wait is over. They've just released the 004 pattern. Designed by Andy Armstrong, the new Rough Ryder Reserve Bar Back is a brand-new traditional slipjoint pattern with two full-sized satin finished D2 blades that open with match strike pulls, have half stops, and an integral cap lifter that can pop a top while the knife is in the closed position.
Yes, you read that right. It's designed to open a bottle with the knife closed. Here's how it works.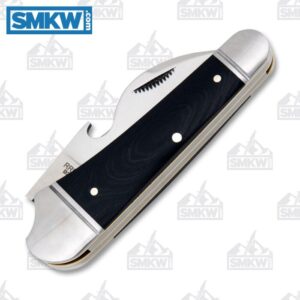 The spine of the 2.35″ Wharncliffe main blade has an integral cap lifter you use while the knife is closed. With most cap lifter traditional slipjoints, the bottle opener either replaces a functional blade, or it's on the tang of a blade. In either case, you have to open the knife to get to the cap lifter. Not so with the Bar Back.
You can just take the knife out of your pocket and pop the top of your beverage. Not only that, but the force you use to open the bottle keeps the knife closed so there's absolutely no danger to your digits.
Another unique feature of the Bar Back is the forward finger choil on the main blade which almost seamlessly transitions to a cutout in the bolsters. This cutout allows for a forward grip that allows you to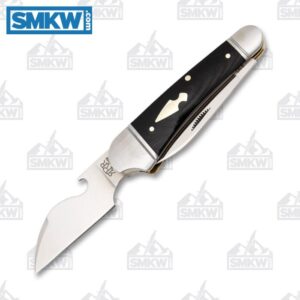 comfortably choke up on the knife for a more powerful and controlled push cut. It's actually a decent sized finger choil that forms between the blade and the bolster, and it really gives the pattern 004 Bar Back a unique look.
The Bar Back also houses a smaller opposing pen blade. It's a bit larger and more pointed than the standard pen you'd find in a traditional. Its belly makes it a good slicing companion to the push cut Wharncliffe in the other end.
The Bar Back has a closed length of 3.625" and weighs about 3.65 ounces. The fit and finish on this knife is very, very good. It's super snappy with a nice walk and talk, and a strong backspring. The black canvas micarta handles have brass pins and liners with brushed and lined nickel silver bolsters, and it's accented by the Triple-R Arrowhead Shield. It still comes in the new metal RRR tube tin and is carefully packaged in the RRR microfiber cleaning cloth.
Rough Ryder Reserve Bar Back Details
D2, Satin Finish
2.35" Main Wharncliffe Blade, Integral Cap Lifter Spine
Secondary Blade
Full Flat Grind
Slipjoint with Half Stops and Match Strike Pulls
Black Canvas Micarta Handles
Brass Pins and Liners
Lined Nickel Silver Bolsters and Triple-R-Arrowhead Shield
RRR Tin and MicroFiber Cleaning Cloth
3.65oz.
3.625" Closed
6" Overall
The Rough Ryder Reserve Bar Back is a new traditional slipjoint pattern that lets you pop a top without ever opening your knife. It features upgraded materials, an outstanding build, and it's still at a budget friendly price of about $50. It makes an outstanding addition to any pocketknife collection. This is a limited run so you'll want to get yours before they're gone. If you're interested in this knife, click any link in the article or simply click the button below.


All images courtesy of Smoky Mountain Knife Works – smkw.com.