"The V-42 is giving birth to children and grandchildren… we're going to define our own space within what you call tactical, but… it's going to be ours from our DNA. It's giving birth to the future." That's what Case/Zippo President and CEO, Mark Paup told us at our round table discussion almost a month ago. Apparently, the future is here. Case has teamed with designer Brent Beshara to create the first grandchild of the V-42, the Case® Besh Wedge.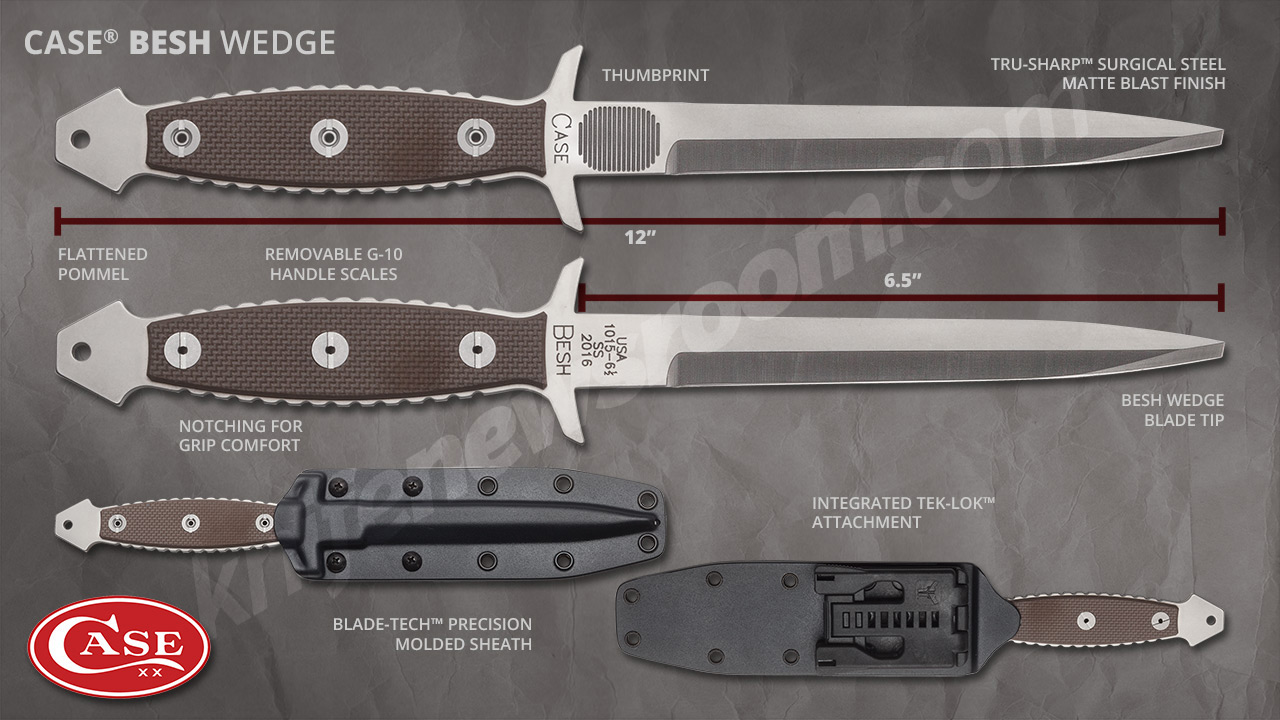 According to Case, the Case® Besh Wedge is "a modern fixed blade that was designed by Brent Beshara and inspired by Case's V-42 of World War II fame. The Case® BESH Wedge is suitable for members of law enforcement and security communities, those in active military service, as well as knife and militaria collectors."
"The revolutionary Case® BESH Wedge blends modern technology with optimal performance and utility. Its unique blade design is composed of two diagonally-opposed bevels that converge to form a third cutting edge. This unique geometry provides a stronger point profile that overcomes tip weakness found in more conventional blade designs."
"The knife's full tang construction and protective finger guard provide stability and control, while its distributed weight provides a comfortable, yet responsive feel."
The Details
Inspired by the WWII Case V-42
Full Tang 12" (30.5cm) Fixed Blade (Dual Edge Knife)
6.5" (16.5cm) Blade composed of two diagonally opposed bevels that form a third cutting edge.
Tru-Sharp™ Surgical Steel with matte blast finish.
Unique "Thumb Print" on ricasso for grip.
Earth Brown G-10 Handle Scales (removable)
Notched Handle Edges (for comfort grip)
Flattened End Pommel
Lanyard Hole
Blade-Tech™ Precision Molded Sheath with Tek-Lok™ attachment which allows for belt carrying at widths of up to one-quarter inch.
6.5 oz (184.3 g) without Sheath
10.6 oz (300.5g) with Sheath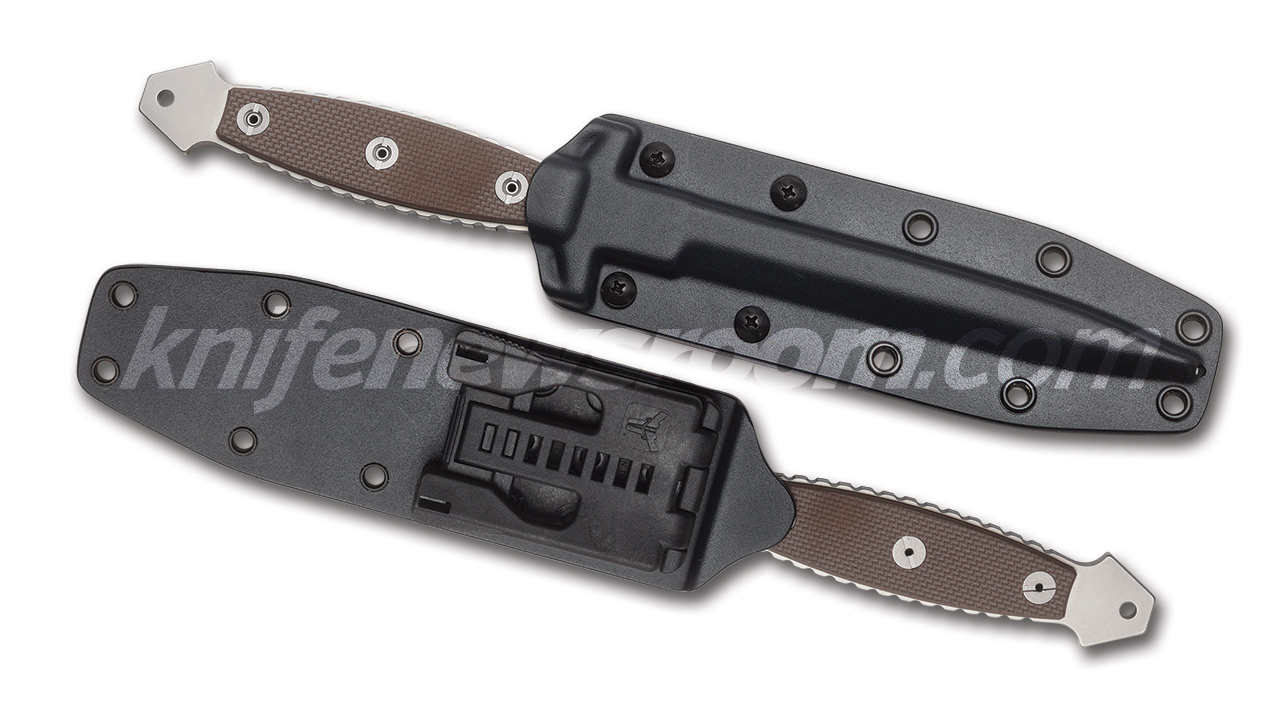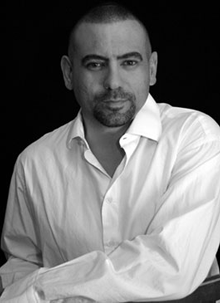 We caught up  with Brent "Besh" Beshara by phone from his home in Newfoundland this week and talke about his experience in the military, how he became a knife designer, and about the new Case® Besh Wedge.
Experience
Besh grew up in Canada and joined the military in 1983. He was in the infantry for six years, and then he changed jobs to become a navy bomb disposal diver. He did that for the next 18 years, five of which he served with the Hostage Rescue Counter-Terrorist Team. He finished his career teaching at the national EOD school in Ontario. He tells us all of this humbly, as if it's nothing, but his military resume is impressive to say the least.
He's been making knives since 2000. "I was doing explosive forced entry with the SWAT team in Toronto and I was in the market to buy a knife," he tells us. Besh says that he noticed a knife strapped to another team members leg and asked him about it. It was a Hayes knife.
As Besh explains, the guy told him that "Wally Hayes is super cat who makes knives and lives in Ottowa" which is where Besh was living at the time, so when he got home, he gave Wally Hayes a call.
"So, I called him up and went by his shop and ordered two knives. I went to pick them up, and he told me it was going to be $250 for the big one and $150 for the little one. I was like, oh my gosh, I could buy 25 knives at Walmart for that, and that's when he explained the difference between a custom-made knife – a handmade knife and a batch knife – and then I fell in love with hand-making knives," Besh says.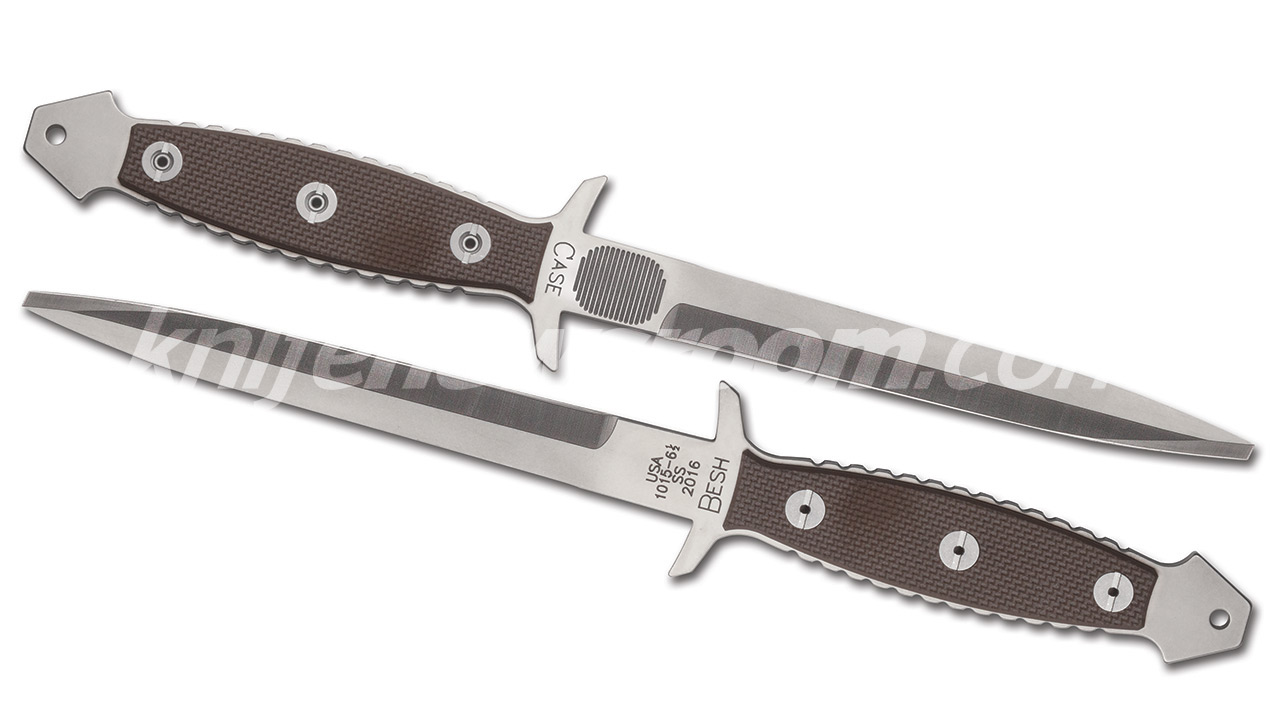 Besh tells us that once Wally taught him how to make knives, he could draw on his life-long experience with wrestling and martial arts to create tools that would perform better on the battlefield. "Things became amazing," he says, "I could put my own heart and mind into tools that would survive in modern warfare and on the modern battlefield."
"I came up with the Besh Wedge, because I think in 3D, what I was doing was going through different profiles using chisel geometry. I wondered what a dagger would look like, but I couldn't work it out in my mind, so I went out to my shop and grabbed a piece of wood and quickly profiled a dagger. I ground out the one side. And thought yeah, that looks right, and then I ground out the second side. Once that diagonally opposed bevel converged with the second and created that third cutting edge – created that squared tip, I instantly felt it in my heart – I knew I'd done something that I had never seen before. I was blown away."
This moment began the evolution of the Besh Wedge. His first actual dagger was for a friend going overseas with the Special Forces. The dagger was called the XSF, which Besh keeps calling the "excessive one" while he talks to us on the phone. Besh makes it clear that this first dagger was "a tool that had a job."
"We have brothers and sisters in harm's way. My personal philosophy is that I don't advocate violence, but I do advocate the ending of violence immediately. So, should you be put in harm's way and should your primary gun run dry or fail to function, you're going to have to transition to a secondary. And should that fail to function or run dry, and rather than transitioning to our johnsons, I highly recommend that you transition to a full tang, fixed blade knife – one without moving parts."
It's clear that Besh has a passion for knife-making and self-defense. He's studied both extensively. He considers Michael Janich to be a teacher, a mentor, and a friend. He's been studying with Janich since 2002.
Janich's technique have taught him how to be a better self-defense knife-maker, and he's learned a lot about what makes for a good knife when it comes to self-defense and how to end a violent encounter almost immediately (his personal demo of his technique on Corey at the Case counter at the Blade Show was priceless).
Besh interjects before we start to talk about the Case® Besh Wedge, "For me, I just want to say that I had a fantastic career. I got to serve with the most amazing men and women from around the world – just the most switched on, tuned in, turned on cats I've ever met – the most exemplary humans ever. I can only say that I'm thankful for the opportunity to serve. I did my 24 years and a day, so I paid my debt back to society. Now what I do is work with like-minded, fun, happy people that get life and work on fun interesting projects."
Creating the Case® Besh Wedge
U.S. Army Colonel Robert T. Frederick commissioned the original V-42 in 1942. It was built exclusively by Case and was issued to the First Special Service Force, a.k.a. "The Devil's Brigade," which he founded and commanded. Case unveiled a "faithfully true" re-creation of the original V-42 at SHOT Show 2015, following years of extensive research and work alongside members of the Special Forces Association's Montana Chapter. The Case® BESH Wedge is built upon that history and ushers in a new era in fixed blade design.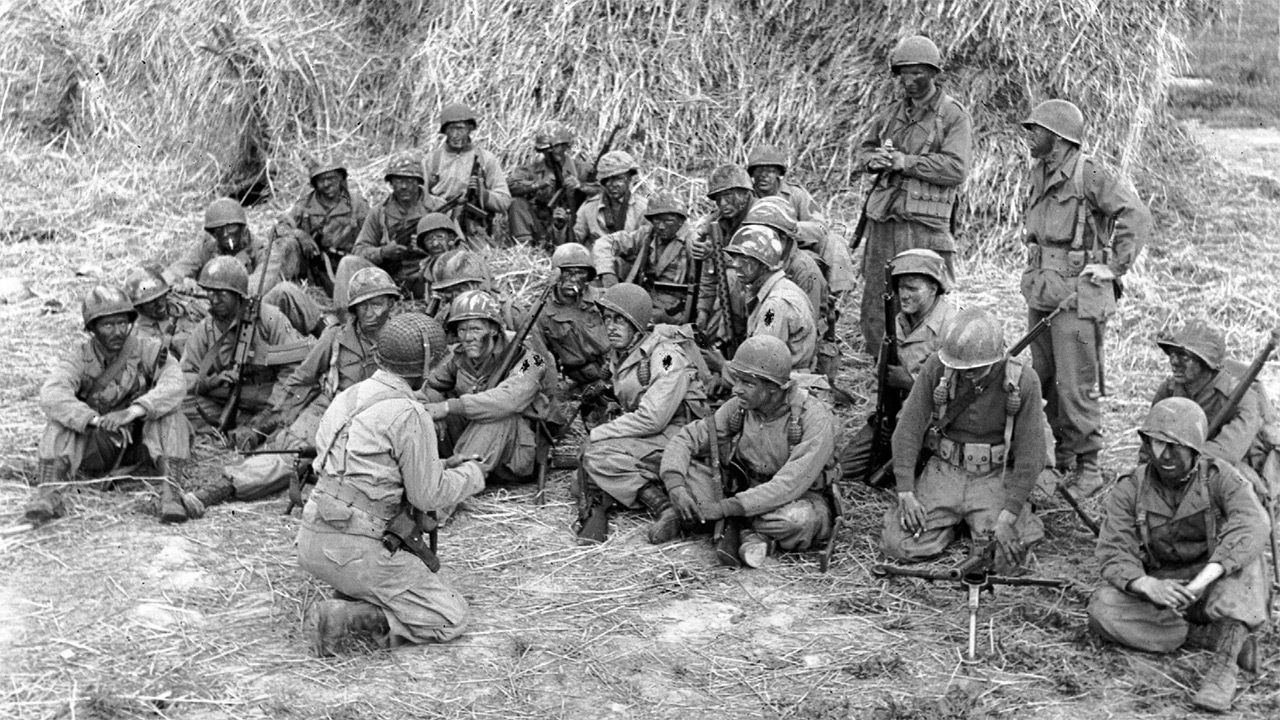 "So what we have here is the modern interpretation of the classic V-42 dagger. What we've done is apply modern geometry and technologies to the classic profile. What I did was take from Colonel Frederick's profile. When I served in the joint task force, our cap badge had the V-42 in it – the homage to being a commando. So, I kept his footprint the same for the most part, and what I did was make it full tang. I used G10 scales and hollowed out the handles, so it puts the weight right where you would hold it, right where your index finger is. It's got an integral guard to prevent your hand from slipping forward. It also has a choil area so that should the knife become stuck upon something, you can wrap your finger around the guard and you won't get cut by the blade." Besh says.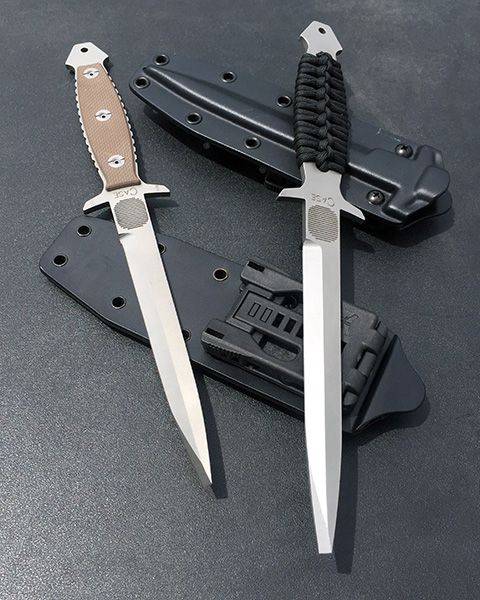 Besh also tells us that original member of the WWII Devil's Brigade, Charlie Mann – among the first men to carry the original V-42 into action – called him up to build a knife for his son-in-law. When he delivered the knife, they began talking about the original V-42 and how some of the men in his brigade would file the pointed pommel down so they wouldn't get jabbed with the pommel end in action. That's why Besh has incorporated a flat end pommel into his Case® Besh Wedge.
Besh also notes that the original Devil's Brigade – widely thought to be the first special forces unit – was a partnership between U.S. and Canadian troops. He thinks that his Canadian roots and Case's American-made products are the perfect homage to the original users of the Case V-42.
Besh approached Case with his Besh Wedge design in 2006. In the dagger application, the design is the strongest knife tip in the world. "When you look at the knife sideways, you get the full thickness right up to the tip of the knife," Besh says.
While a traditional dagger is slightly better at penetration than the Besh Wedge design, the advantage lies in the tip strength and durability. "And the Case factory has done a fabulous job interpreting the custom I sent down. And [their] ability with the machinery – wow – it's a fabulous design… when you feel it, it has such a great feeling in your hand. It locks really, really well. You have a secure feeling that what you're hanging onto is going to be there when you need it," Besh tells us.
"It's a tool, first and foremost. It's a tool no different from my MP5 – no different than my Sig Sauer. It's a tool with mission specific geometry. That's very important. It's mission specific. It's designed first and foremost for someone to get out of harm's way, so they can go home and enjoy this quality of life. I carried my own knife in Afghanistan, and if harm had come to me, my bride would kick my butt, so I couldn't allow that to happen," Besh says. And it's clear that he is passionate about the men and women that serve and helping them return home safely.
"As military man, as a martial artist, as a knife maker this project has been the most amazing that I've worked on. It's the team effort – the comradery. It reminds me of working in the military. It's so tight, and everyone totally steps up to the plate – a very rewarding experience. I'm humbled. Who gets this opportunity to design a remake – a modern interpretation of a V-42? My head's still spinning from it all," Besh says.
The Case® Besh Wedge will be available this Fall (2016). If you're like us and you're chomping at the bit to get one, Smoky Mountain Knife Works (SMKW) has them available for pre-order online right now. Simply follow the link below.