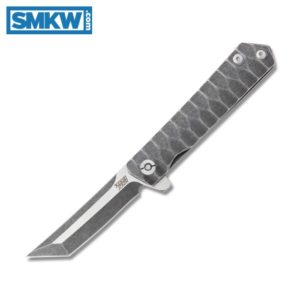 The Kensei Jonin Framelock just might be our favorite knife in the Kensei series. With a ball bearing pivot, it's a fast-flipping pocket sword you can get for about $20. Why do we call it a pocket sword? Just look at it. From its slightly upswept tanto tip to its stonewashed handle in an almost wrapped pattern, the overall profile just screams Samurai! The Editor was not amused when we were stabbing and slicing donut packets, packages, and Dorito bags complete with sound effects. He was even less amused when we hopped on the chair and pretended to reenact the O'ren Ishii scene from Kill Bill.
It has a 3.5" 8Cr14MoV tanto tip blade with a dual finish. The grinds have a stonewashed finish and the flats are satin finished. It's a manual flipper with an opening that is shockingly fast and for a $20 knife. Not only that, this knife is razor sharp straight out of the box. It's more than capable of accomplishing any office task you might require, including the dreaded tightly sealed clam pack.
The cast metal handles house a frame lock and a tip-up pocket clip. We love that the texture in these handles are reminiscent of the cord wrapping you'd find on an actual tanto sword.
Kensei Jonin Framelock Details
8Cr14MoV, Dual Finish
3.5" Tanto Tip
0.125 Blade Thickness
Manual Flipper with Ball Bearing Pivot
Frame Lock
Cast Metal Handles, Stonewashed Finish
7.2 Oz
4.75" Closed
8.25" Overall
The Kensei Jonin Framelock is a fast, fun knife you can get for about $20. If you're interested in this knife, click any link in the article or simply click the button below.


All images courtesy of Smoky Mountain Knife Works – smkw.com.