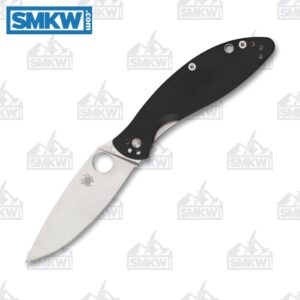 Based on a design from Hungarian architect Gabor Szakonyi, the Spyderco Astute is a sleek, sexy knife with a ton of curves and a budget friendly price of about $45. It's an easy EDC with a fantastic action. If you've never tried a Spyderco, this just might be the perfect knife for you.
Now, the Astute has an interesting design history. Spyderco tells us when this knife was initially submitted, "Szakonyi named his design the 'Mo' after his wife's name, since he believed it would be the perfect everyday carry knife for her needs." Spyderco took that design and made it so that it would encompass even more. The result is a budget friendly, easy EDC with beautiful lines that is comparable size-wise to a Leek.
It has a 3.02" 8Cr13MoV drop point blade that runs on washers and opens with a Trademark Round Hole. The full-flat grind and blade thickness of 0.098", as well as Spyderco's fantastic edge geometry means it will have a fantastic slice.
Mounted on skeletonized stainless-steel liners, this linerlock has G-10 handles skinny neck and a pronounced palm swell. It not only looks amazing it feels fantastic in hand. It comes with a four-position pocket clip and lanyard hole. It's 3.91" closed and weighs about 2.7 ounces.
Spyderco Astute Details
8Cr13MoV, Satin Finished
3.02" Drop Point
0.098" Blade Thickness
Full-Flat Grind
Trademark Round Hole
Manual Folder with Washer Pivot
Linerlock
G-10 Handles
Skeletonized Stainless-Steel Liners
Four-Position Pocket Clip
Lanyard Hole
2.7 Ounces
3.91" Closed
6.9" Overall
At about $45, the Spyderco Astute is a great way to get into the Spyderco line. It's has sleek, sexy lines and a pocket friendly profile. To get this knife, click any link in the article or simply click the button below.


All images courtesy of Smoky Mountain Knife Works – smkw.com.