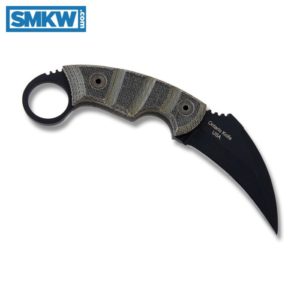 Although many believe karambit is strictly a defensive weapon, there is a karambit for any occasion. The curved blades and overall design give users a ton of control and allow them to complete tasks that other knives might struggle with, and they're pretty much suited for virtually any environment. These knives originated generations ago and were primarily used as farming tools in Southeast Asia. In their modern form, not only do they feature much better materials, karambits are applicable to tasks such as cutting heavy materials like rope, straps, and wiring. They're also formidable tactical knives that are suited for many combat scenarios. Let's look at three different styles of this highly recognizable knife, each with their own differences.
The Ranger Kerambit EOD from Ontario Knife Company is a full tang fixed blade karambit. It was designed for combat use in unforgiving terrain. It has an overall length of 7.5" and features a powder-coated carbon steel blade and an ergonomic micarta handle. Along with the safety ring, this knife has spine jimping that adds even more slip resistance and control when in use. It comes with a MOLLE compatible nylon sheath.
Ontario Knife Company Ranger Kerambit EOD Details
5160 Carbon Steel, Black Powder Coated
3.625″ Hawkbill Blade
Safety Ring
Full Tang
Micarta Handles
Nylon Sheath
7.5″ Overall
Made in the USA
Some karambits are folders, and one of the more popular models is the Cold Steel Tiger Claw. It was designed by Andrew Demko and is made for lightning-fast deployment. It features a CTS-XHP alloy steel blade that is opened with the patented thumb-plate. It is available with either a plain or fully serrated edge, each with grippy G-10 handle scales, a tip-up pocket clip, and Cold Steel's awesome Tri-Ad lock. Fully ambidextrous, the Tiger Claw can stand up to its fair share of abuse and keep coming back for more. This is a great knife for every day carry and almost any use.
Cold Steel Tiger Claw Details
CTS-XHP Stainless Steel, Satin Finish
3.25″ Hawkbill Blade
Lockback
Safety Ring
G-10 Handles
Ambidextrous Tip-up Pocket Clip
5 oz.
6.25″ Closed
9.125″ Overall

The last karambit on the list is certainly suited for defense situations. It's the Kensei Karombi. It was designed by Christopher Rossman. His decades of experience studying edged weapon fighting led to the creation of this knife. It features a long, curved 440A stainless steel blade and G-10 handle scales. At 6.75" overall, it makes this karambit excellent for slashing attacks. It looks a little different that other karambits due to its long curved blade that is designed to resemble and function like a tiger's claw. It's carried with an included nylon snap sheath.
Kensei Karombi Details
440A Stainless Steel, Stonewash Finish
3.87″ Blade
Safety Ring
G-10 Handles
Nylon Sheath
6.75″ Overall

There you have it. A Karambit for any occasion. You can use them to help keep you safe or use them for work. Either way, there is no denying that the karambit one versatile knife. Check one out by clicking any link in the article or the button below.


All images courtesy of Smoky Mountain Knife Works – smkw.com.