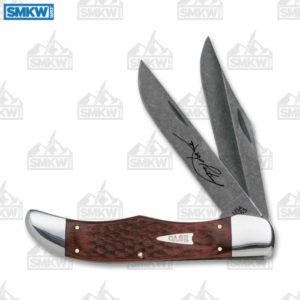 Dave Canterbury is well known for his time on TV, his Pathfinder School, and for his best-selling books. He's a survivalist for sure, and his new collaboration with Case has produced a knife that is not only beautiful, but useful. The Case Dave Canterbury folding hunter combines a traditional Case pattern with a little custom hand grinding by Dave and his team at Pathfinder.
At first glance, this may look just like any other folding hunter from Case. It's not. After Case completed production of these knives, they shipped to Canterbury and his team for a final touch. They put the spine of the clip point blade on the grinder and gave it a 90-degree spine. Now you can strike a ferro rod or flint with the knife closed.
The folding hunter is a large pattern that Dave says he grew up with. This one is 5.25″ closed and features chrome vanadium blades with a stonewash finish. If you're not familiar, Chrome Vanadium is Case's version of carbon steel, so you'll need to take care of this knife as you use it. The clip point (with the sharpened spine) and the skinner blade are both 4″ long. Neither lock. It's a true slip joint.
The handles are a gorgeous brown jigged Stamina Wood that Case tells us has been fully stabilized. The bolsters and Case Arrowhead shield are nickel and silver, and it features brass pins and liners.
Case Dave Canterbury Folding Hunter Details
Chrome Vanadium Blades with Stonewash Finish
90-degree Spine on the Main Blade
Jigged Stamina Wood Handles
Brass Pins and Liners
Nickel Silver Bolster and Arrowhead Shield
Clip and Skinner blade.
5.25″ Closed.
This knife was made to be a user. If you're interested in learning more or you just want to pick one up for yourself, click any link in the article or the button below.