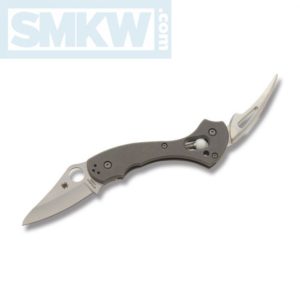 The Spyderco Tusk is a multi-function, compact marine folder with all around superior corrosion resistance and a fascinating history.  Spyderco tells us, "The original concept of the Tusk was conceived by [Spyderco founder] Sal Glesser in the early 1980's. More than 25 years later, his son Eric picked up the project and made it a reality, creating a truly extraordinary multi-function mariner's tool."  This 25-year legacy results in an incredibly useful knife that can withstand the most challenging maritime conditions.
First things first. A plain edged, 2.38" drop point, LC 200 N steel blade is housed in one end of the titanium handle. The blade securely locks into place with a sturdy Reeve Integral Lock mechanism, and the smooth action and the trademark Spyderco Round Hole really make this knife easy to open with one hand.
At the other end of the Tusk's handle is a 300-series stainless steel marlin spike. Spyderco explains the "…unique round-to-square cross section [is] for increased leverage when loosening knots.  A milled slot in the marlin spike's body and the gap between it, and the handle also serve as shackle keys for unscrewing and tightening threaded shackles." The marlin spike and its shackle key can withstand extreme leverage during use, because it locks securely in place with a special ceramic ball contained by Spyderco's patented Ball Bearing Lock mechanism.
Spyderco Tusk Details
2.14″ Drop Point Blade
Lc-200-N steel
4.17″ Closed
Blade thickness: 0.118″
2.5″ 300 series Stainless Steel Marlin Spike
Titanium handle
Lanyard hole
Ambidextrous, Reversible Tip-Up Pocket Clip
R.I.L. Locking System
From tip to tip, the Spyderco Tusk is a durable maritime tool perfect for the fisherman or sailor.  Find out more by clicking any link in this article or simply by clicking the button below.