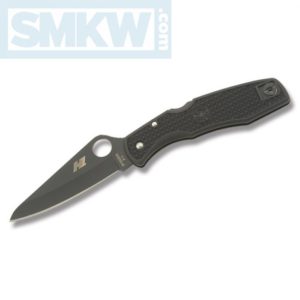 The Spyderco C91 Pacific Salt Black is the approximate shape and size of the Endura, but it has a rust proof H-1 steel blade. The black coating reduces the reflectiveness of the knife and increases the corrosion resistance. Originally priced at an MSRP of about $130, you can now get this knife for less than $80. That's a steal.
The C91 Pacific Salt has a black coated 3.8" H-1 sheepsfoot blade with a hollow grind. Spyderco tells us, "H1 steel is a PH steel, meaning it is a precipitation-hardened steel…. Utilizing 0.1% nitrogen instead of carbon to harden the steel, it reaches a Rockwell hardness of 57-58rc…. All internal steel parts are treated as well making them impervious to rust and pitting and of course, salt. Those challenged by cleaning and maintaining their knives will find the Pacific Salt stays rust-free even if put away wet."
This knife opens with Sypderco's iconic Round Hole, but it's just a bit larger than ordinary. This makes it easier to open and close even with gloves on.
The C91 Pacific Salt also has a fiberglass reinforced nylon (FRN) handle in a volcano grip pattern. The handle on this knife is very slip resistant. It also has a lanyard hole and an ambidextrous tip-up titanium pocket clip.
Spyderco C91 Pacific Salt Black Details
H-1, Black Coated
3.8" Sheepsfoot
Hollow Grind
Treated Internal Hardware
FRN with Volcano Grip Pattern
Round Hole Opener
Titanium Ambidextrous Tip-Up Pocketclip
Lanyard Hole
4.875" Closed
8.6875" Overall
If you're looking for a great knife that is virtually rust proof, this is it. You can now get the Spyderco C91 Pacific Salt Black for less than $80.  If you're interested in this knife, click any link in the article or simply click the button below.


All images courtesy of Smoky Mountain Knife Works – smkw.com.