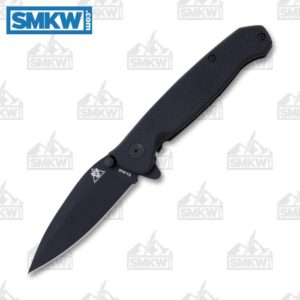 We know you read the KA-BAR TDI Flipper and had a mean thought about your opening-action-expectations on this knife. We're on the internet, and we see you. It's not like that at all. The action on this knife is seriously outstanding. It's so outstanding, we took it to the Editor, the new guy, and pretty much everyone to make them open it too. We might have even shrieked "Only $50!" a few times. It's as fast and smooth as any modern folder on the market. We know, because we opened no less than three boxes, and every single one opened beautifully. It also has a well thought out design, so you just stop making that face and keep reading.
The TDI Flipper has a black coated 3.5" AUS 8A spearpoint, and the flipper placement and alignment are literally impeccable. Your hand just naturally falls to the sweet spot, and the blade literally snaps open.
The second thing we know folks out in internet land are groaning at is the AUS 8A steel. It's not a bad steel. You'll read in an upcoming article about a Spyderco AUS 8 that was discovered by a lawnmower after hiding out in a yard for a couple years. It not only lived, it's back in the EDC rotation and got it its picture taken. It wasn't even a coated AUS 8 like this the KA-BAR TDI Flipper.
The front handle on this knife is a textured G-10. The back handle is coated stainless-steel. This is great because if the intent of the knife is to be a back-up self-defense weapon, this let's you quickly get the knife out of your pocket and still maintain a great grip. A secondary bit of awesomeness in the design is that the smooth back handle is less wearing on the pocket.
KA-BAR TDI Flipper Details
AUS 8A, Black Coated
3.5" Spearpoint
0.125" Blade Thickness
52-54 HRC
Manual Flipper
G-10 Front/Coated Stainless Steel Back
Framelock
Tip-Up Pocket Clip
4.8 Oz
4.75" Closed
8.25" Overall
The KA-BAR TDI Flipper is an awesome knife with a fast action you can get for about $50. Stop making the faces and check it out. You'll love it. To get this knife, click any link in the article or simply click the button below.


All images courtesy of Smoky Mountain Knife Works – smkw.com.