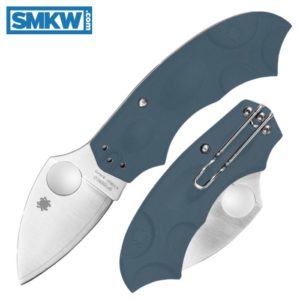 An upgraded steel and a nifty little phantom lock make the Spyderco Meerkat Sprint Run one truly unique EDC knife.  This Sprint Run edition of the popular, Spyderco Meerkat also features an FRN handle in Spyderco's signature Sprint Run blue-gray color.
If you've never handled a Meerkat before, the Meerkat uses a clever Phantom Lock mechanism. To close the blade one-handed, you simply scissor the two handle scales apart at the butt of the knife. By stabilizing one scale and pushing the butt of the other scale toward the spine, you'll see a scissor action between the scales. This releases the lock back, so you can fold the blade back into the handle.
Here's a great little video we found to help you visualize the process.
The blade is made with a V-Toku2 tool steel core with SUS410 stainless steel outer layers. That results in a blade with excellent hardness and toughness. It measures 2" and it just the right size for everyday use. A steep thumb ramp provides an awesome grip when using this little guy. The Meerkat also features the Spyderco Trademark Round Hole opener and a reversible tip-down wire pocket clip.
Spyderco Meerkat Sprint Run Details
V-Toku2 Tool Steel/SUS410 Stainless Steel, Satin Finish
2" Drop Point Blade
Round Hole Opener
Phantom Lock
Fiberglass Reinforced Nylon Handle
Reversible Tip-down Pocket Clip
Weight: 2.3 oz.
3.37" Closed
5.37" Overall
Made in Seki-City, Japan
The Spyderco Meerkat Sprint Run is available for less than $100. These are in limited supply so make sure you get yours before it's gone. If you're interested in this knife, click any link in the article or simply click the button below.


All images courtesy of Smoky Mountain Knife Works – smkw.com.