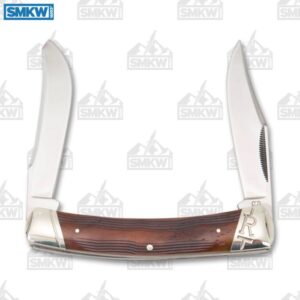 If you're a fan of Rough Ryder knives, you know that they've been upping their traditional slipjoint game over the last few years. The brand new Rough Ryder High Plains Series is no exception. It features everything you've come to expect from the high quality, budget friendly line you know and love. This series doesn't disappoint.
First, the Rough Ryder High Plains Series derives its name from their uniquely jigged bone handles. The genuine bone handles are dyed to a deep, rustic brown which by itself is gorgeous. Each handle also has jigged ridges and a flat plain that resemble a topographical map, and they feel just as good as they look.
As usual, the blades in this series are 440A stainless steel with match strike pulls, heavy swedging, and half stops. If you're not aware, this trio of blade features is what you might find on the best traditional knives of the last century. The High Plains handles are held on with brass pins and rest on brass liners. They're complemented nicely by nickel silver Slant R bolsters.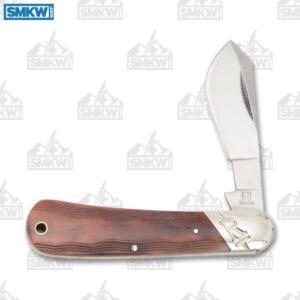 At release, there are four patterns available in the Rough Ryder High Plains Series, including the Large Moose, the Cotton Sampler, the Trapper, and the Doctor's Knife. They are all available for the unbelievable price of just $14.99 each.
Rough Ryder High Plains Series Details
440A Stainless Steel Blades
Match Strike Pulls, Heavy Swedging and Half Stops
Genuine Bone Handles with Unique Ridged Jigging
Nickel Silver Slant R Bolsters
Brass Pins and Liners
To see a slideshow of the knives in this series, simply click any thumbnail below.
If you've not tried a Rough Ryder, what are you waiting for? They're all built by hand and backed for life. In fact, their created and warrantied by Smoky Mountain Knife Works. If you'd like to see the knives in Rough Ryder High Plains Series, simply click any link in this article or the button below.