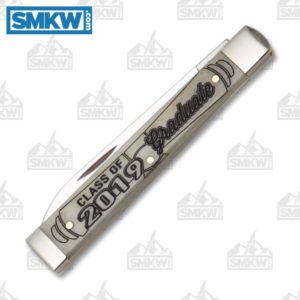 May is the start of 2019 graduation season, and there's no better time to get a traditional pocketknife for the 2019 graduate in your life. Often passed down from father to son, a traditional pocketknife is a great way to honor the past while celebrating the present. Slipjoint folders are not only trendy, they're good knives that make excellent additions to any knife collection. With the addition of a coin to keep another old tradition alive, they make fantastic gifts.
The Case 2019 Graduate Doctor's Knife has a white smooth bone handle with a diploma etched on the front handle. Overlaying that etch are the words "Class of 2019" next to "Graduate". You can get this knife for about $60.
The easily accessed nail nick opens the single 3" Tru-Sharp Surgical Steel spear point blade. The mirror polish is literally perfect. The opening is smooth and easy. It also has pins and brass liners. The squared bolsters are nickel silver.
Case 2019 Graduate Doctor's Knife Details
Tru-Sharp Surgical Steel, Mirror Polished
3" Spear Point
White Smooth Bone
Brass Pins and Liners
Nickel Silver Pins and Squared Bolsters
Nail Nick
3.75" Closed
6.75" Overall
Made in the USA

The Rough Ryder Class of 2019 Trapper is a great knife you can get for about $15. The fit and finish on this knife is very good, especially for the price. It has a white smooth bone handle etched with "Class of 2019." It also has nickel silver lined bolsters as well as brass pins and liners. The mirror polished stainless steel blades have half stops and open with match strike pulls.
Rough Ryder Class of 2019 Trapper Details
440A Stainless Steel, Mirror Polish
3.125" Clip and Spey Blades
Etched White Smooth Bone Handles
Brass Pins and Liners
Match Strike Pulls
Lined Nickel Silver Bolsters
Brass Pins and Liners
4.125" Closed
7.25" Overall

Either of these knives make a great gift this 2019 graduation season. To get these knives, click any link in the article or simply click the button below.


All images courtesy of Smoky Mountain Knife Works – smkw.com.