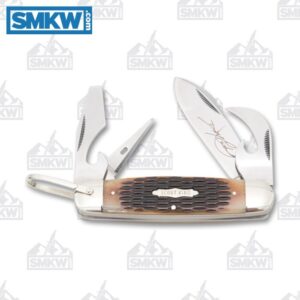 Dave Canterbury's bushcrafting books are best-sellers. You've probably seen him on TV on a show called "Dual Survivor." We've had the pleasure of meeting him on several occasions and doing an in-depth interview with him around the time this magazine was launched (it's still one of our most-viewed articles).  He's collaborated with the likes of Case and others to help bring some excellent knives to market, and now he's joined forces with Marble's to create an affordable, full-size camp knife called the Dave Canterbury Marble's Scout King.
According to our sources (and like most of us), Dave Canterbury holds the traditional scout pattern near and dear to his heart. It's one of the most useful knives you can have at camp, because it holds so many useful camp tools in one fairly compact package. It rides in the pack or the pocket easily, and it's incredibly useful when you need to open a can of beans or stitch a makeshift grommet into your failing tarp.
The only issue Dave Canterbury has with the scout pattern is the size of the main blade. Scout patterns traditionally close down to less than 3 5/8″, and this leaves the main spear blade fairly short. The Rough Ryder Kamp King, for example, has a main blade that's well under 3″. That wasn't enough for Dave.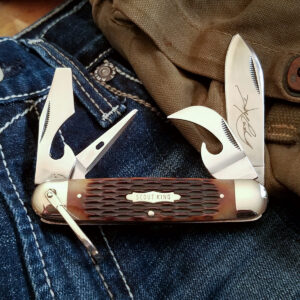 The Dave Canterbury Marble's Scout King is 4.25″ closed. That's more than half an inch bigger than the standard scout pattern. This means that the spear blade is a full 3″ long. It also means the other tools in the knife are slightly bigger and more robust, and it means that the handle itself has plenty of room for grip.
The full-size Scout King features four 440A stainless steel blades (five tools altogether), including a 3″ spear point blade, a can opener, a cap-lifter, a screw driver, and a reamer/punch with a sewing eye. All of the tools have a mirror-polish finish, half stops, and match strike pulls.  The main blade has a Dave Canterbury signature etch.
The handles on the Scout King are brown jigged bone, that give this knife a real old school feel. The bolsters and Scout King shield are polished nickel silver, and the pins and liners are brass. Like most traditional scout patterns, this knife also has a steel lanyard bail that will let you clip this knife to just about anything and use it as a line weight when throwing/running line.
We don't want to avoid the elephant in the room. This is an imported knife. It comes from the same factory that produces Rough Ryder and Marble's knives. The quality is certainly in line with other products from both of those brands, and so is the price. You can get this knife for only $19.99.
Dave Canterbury Marble's Scout King Details
 440A Stainless Steel Blades/Tools
Mirror Polish Finish
Half Stops and Match Strike Pulls
3″ Spear Point Blade 1/16″ Thick
Can Opener, Cap Lifter, Screw Driver, Reamer/Punch with Sewing Eye
Dave Canterbury Signature Etch on Main Blade
Brown Jigged Bone Handles
Nickel Silver Bolsters and Scout King Shield
Brass Pins and Liners
Lanyard Bail
4.25″ Closed
The scout knife has been a staple of camping for a very long time. The full-sized Dave Canterbury Marble's Scout King takes this traditional pattern to the next level of usefulness without going modern. At under $20, this knife is a must have for any camper's pack or pocket. If you're interested in one of these, simply click any of the links in this article or the button below.